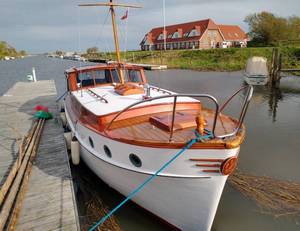 I was anxious to see if there were any damage to the brightwork after the winter, and I must say I was pleasantly surprised because there were no damages whatsoever. Everything looked like it did when the boat came out of the water in the fall, so I have to say I'm really happy with the durability so far. At first glance though, it seemed a bit dull, as if the shine had disappeared, but a light cleaning with a wet cloth with a bit of dish soap made the surface look like new. That's all I've done to the brightwork this year.
Compared to what I have been used to with Epifanes varnish, it is quite unusual that nothing needs to be repaired. But it's great!
The roofs where I had applied Coelan anti-slip in were impossible to clean, it sucks dirt like hell. I don't think it is intended to stand without being covered by a layer of clear Coelan, but the instructions said nothing about doing so. So the solution was to paint the non-slip fields with thin paint. I chose to use regular Sigma semi-gloss oil paint and the result was really good. It looks nice and is easier to keep clean.
So is it worth it to put all the work and the extra expense into it compared to traditional varnish?
I'd say yes, it definitely has been for me. I now have a dry boat and I'm so thrilled that I don't have to do varnish repairs every single year and thus won't have to live with an increasing number of dark spots under the varnish. Especially here on the west coast of Denmark, where we have a significantly harder and more wet climate than in the rest of the country, I'm convinced that it is the right solution for older wooden boats like Selma III. On a smaller and newer boat, I would probably choose an epoxy solution instead.