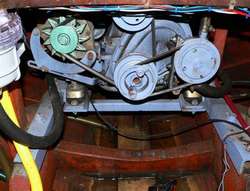 Vibration dampers & flex clutch
In 1953, when the boat was built, the noise level was seemingly not something that was considered important - the engine was just bolted directly to the foundation, which makes a horrible noise and sends a lot of vibration through the hull, so I bought 4 Vetus K70 vibration dampers and a flex clutch for the propeller shaft.
The mounting was fairly easy, the motor was attached to 2 transverse brackets, so I just made 2 new ones that fit the dampers. I was able to lift the engine alternately at the ends with a jack and mount the new brackets without any problems. It was necessary to move the engine 25 mm forward to make room for the flex clutch, but that went fine too. Furthermore, it was necessary to change the attachment of the generator, as it was previously clamped to the motor foundation. I made a new bracket to attach it to the engine itself.
It has really improved the comfort in the boat. Although not much has been done about the noise isolation of the engine compartment, the noise level is now quite comfortable.
Engine remote control for gear and throttle
The BB43 engine is equipped with an old-fashioned planetary gearbox with an external reduction gear. When we bought the boat, it was equipped with a 1.5-meter long gear stick that was attached in the bottom of the boat. It worked fine, but along with the tiny gas control, it was not the most comfortable way to maneuver the boat. So I decided to install engine remote control and was lucky enough to find a used two-handed grip for DKK 1000. I just have to turn some teak handles to the grips, they are factory fitted with ugly plastic grips that do not fit the boat.