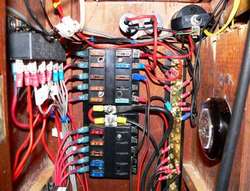 The electrical system worked well enough, but there were some problems with discharge, and it looked quite messy, so I decided to replace it all.
The new system has 2 circuits, so we have separate consumption and starter batteries. A Manta battery isolator with compensation diode is used to separate the systems. All batteries are new, two 100 Ah for consumption and one 60 Ah for the engine. For shore power, I have chosen a Dolphin 10 A charger.
All switches including the float switches for the 2 bilge pumps run via relays, so there are only thin wires for the relay control current in the dashboard - of course with the exception of the ignition wires. The only cables that haven't been replaced are the wires for lanterns and internal light. Everything else is new.
To protect us against the dangers of gasoline in a boat, I had found a Fire-Boy gasoline alarm in the United States. A small round instrument was mounted in the bulkhead and a sensor mounted in front of the engine. The instrument gives an alarm at 20% of explosive vapor content in the air, and at the same time launches a fan (which I have not yet fitted). I paid approx. DKK 1200 for it incl. freight.
On the same occasion, a new Garmin GPSmap 298 with built-in sonar was fitted, the old VHF was recycled and a new JVC radio with CD and USB was also fitted.